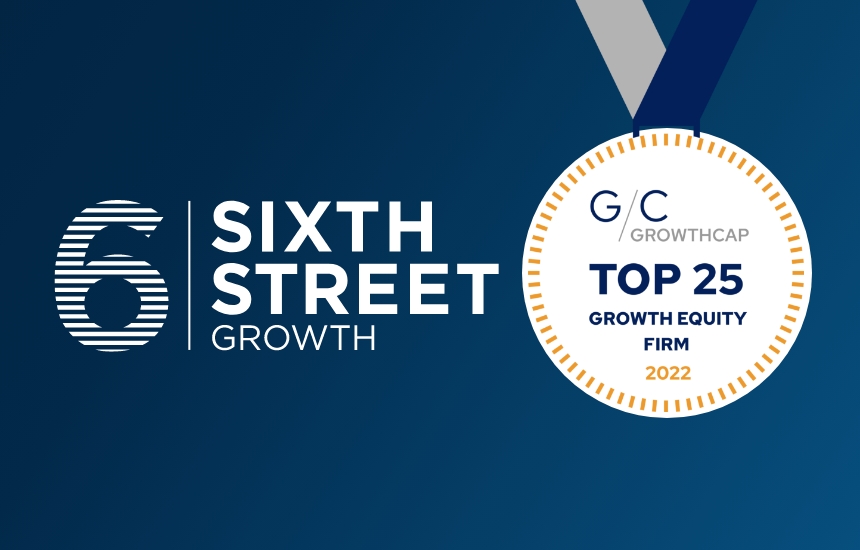 Sixth Street Growth named to GrowthCap list of Top 25 Growth Equity Firms
Sixth Street Growth is proud to be included at #7 on GrowthCap's list of the Top 25 Growth Equity Firms of 2022. GrowthCap compiled its ranking from over 1,400 nominations received from CEOs, LPs, GPs, peer investors, board directors, attorneys, and consultants, among others.
Sixth Street received the award for 2022, a year in which our Growth team partnered with exceptional market leaders, announced the close of $4.4 billion in fresh capital for investing in fast-growing businesses, and launched our More than Capital business to provide in-house operational expertise to our current and future portfolio companies.
Sixth Street Growth invests in fast-growing companies with a focus on forming long-term partnerships with market leaders across application software, infrastructure software, healthcare technology, and fintech. Sixth Street Growth is part of Sixth Street, a leading global investment firm with approximately $65 billion in assets under management and committed capital. Founded in 2009, Sixth Street has partnered with over 70 CEOs and management teams and invested more than $9 billion in its Growth strategy since inception.
To learn more about the ranking, visit: Link to Article
DISCLAIMER: The award referenced is the opinion of GrowthCap, LLC ("GrowthCap")—the party conferring the award—and not of Sixth Street. Sixth Street has no affiliation with GrowthCap. Sixth Street submitted nominations to be considered for and, once selected, paid to be included on, and to promote inclusion on, the list noted above. Sixth Street was notified of the award on 1/26/2023. The award was based on the time period of 1/2022-12/2022. GrowthCap's recognition is not indicative of Sixth Street's future performance. This award does not constitute an offer to sell or a solicitation of an offer to buy any securities and should not be used or relied upon in evaluating the merits of investing in any Sixth Street-sponsored investment vehicle.